Love, care, and community are at the center of everything we do here at Grace Assisted Living Twin Falls. That's why our facility for seniors, which also offers independent living and memory care, has built such a strong reputation over the years.
But please don't just take our word for it. Here's some of the feedback we've received from our residents and their loved ones.
"When I came here, I fell in love with the place. The staff and other residents are so very kind to each other." – Judith L. 
"Grace is a wonderful facility and we're extremely happy and comfortable. The staff is fantastic and they are caring and respond quickly to every need."
– Robert S.
"Grace has been absolutely wonderful for my mother. A wonderful and caring place. They allowed my mom to keep her two dogs when she moved in." – Karen K.
Assisted Living Twin Falls Floor Plans
Memory Care Twin Falls
Memory Care Twin Falls Floor Plans
Why Choose Our Twin Falls Senior Center?
Not only are we located in a quiet neighborhood, but our community is also just down the road from shops, restaurants – and of course, the famous Snake River Canyon.
Grace offers a welcoming, open floor environment with inviting common areas and large windows allowing for great views of the open rural scenery.
Grace Assisted Living Twin Falls Idaho offers Independent Living, Senior Living, and Memory Care. Set back off Poleline Road, our senior living community is far from the hustle and bustle. Our residents really appreciate a quiet setting which is still nearby the shops and restaurants they and their families like to visit.
A warm experience
Beautiful fireplaces surrounded by sofas and chairs make a friendly or family visit comfortable for small or large groups. Other spaces have tables for the card groups and our quiet, comfortable library is well-used. The private dining room is perfect for special occasions and family birthday parties. The piano in the dining area is often used and appreciated by the residents and by the musicians who come often to provide entertainment.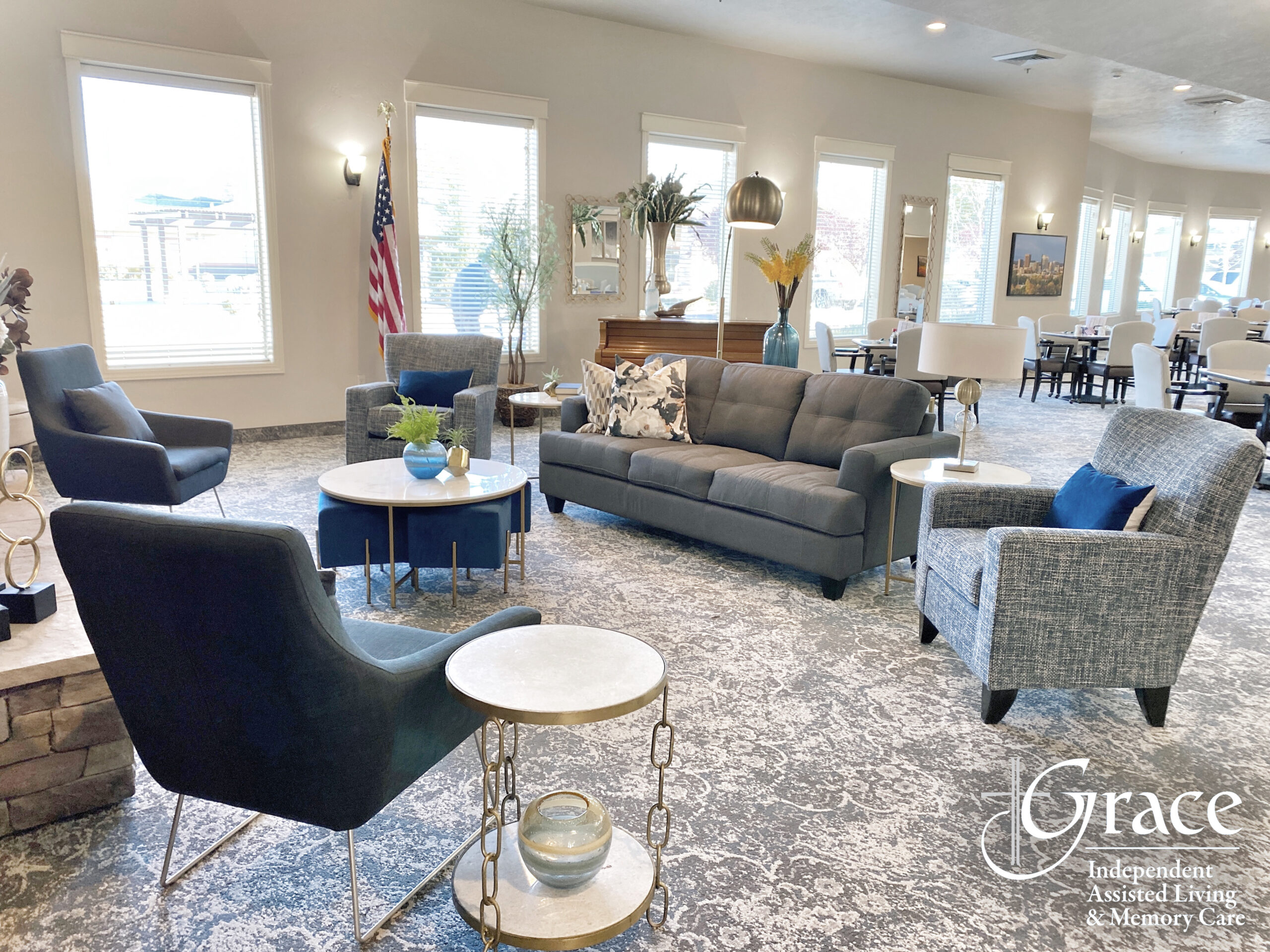 Grace residents enjoy covered parking, patios, and plenty of sidewalks for those who like a little fresh air walk. All residents enjoy the movie theater with big lounge chairs and a popcorn machine. The game tables and activity rooms are popular, and our gym and salon keep everyone looking and feeling their best.
Special day trips
The Grace bus is especially equipped with motorized lifts for wheelchairs so that residents of every ability level can enjoy the bus for 'mystery rides' and country drives where ice cream stops are not uncommon.  The bus is also convenient for residents' shopping trips and medical appointments.
Delicious meals at our Grace Twin Falls senior center are thoughtfully planned by a professional chef, and prepared and served by well-trained staff. And yes, dessert is always served!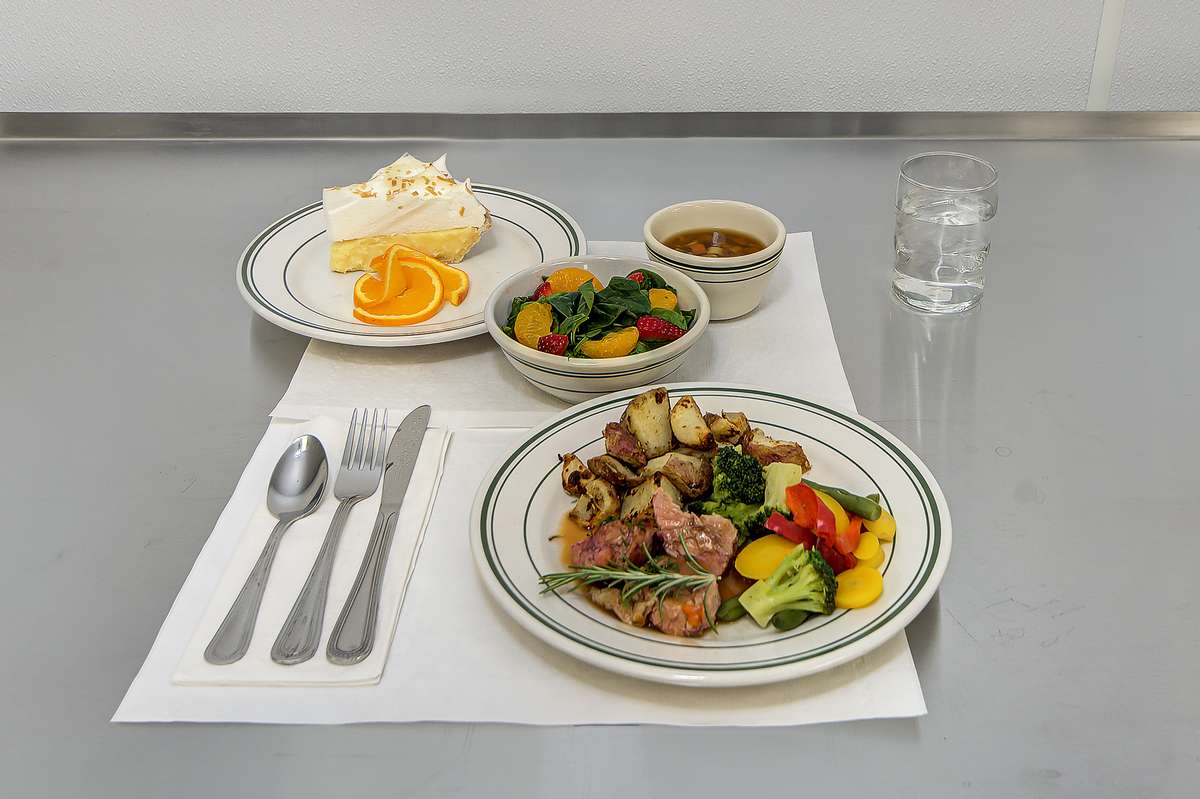 We have an activity director who is dedicated to making sure there is always something fun or interesting to do, from jigsaw puzzles, bingo, table games and cards to crafts, ice cream socials, holiday celebrations, and frequent musical performances.
Care professionals
The highest standard of care at Grace is a huge part of the senior living experience. Our team of RNs, LPNs, CNAs and Medication Technicians are carefully trained for assisted living communities. Most recently, Dr Aaron Moorhouse and Dr Jason Ludwig have joined the Grace team as our Medical Directors.
Grace Senior Living Twin Falls is excited to announce our new hospice company, Grace Care Hospice, to provide a variety of health care services through our affiliated companies including home health nursing, rehabilitation, and counselling.
Our dedicated Twin Falls Memory Care is safe and secure but it's also bright, active, and busy. Activities are specifically planned to provide a supported environment where every person is given the opportunity to contribute and live their best life.
We understand that proper support as we age is a family's number one concern. Our residents and their relatives have peace of mind knowing that a little help is just a button push away – someone is always there.
Teamwork is essential in assisted living and our administrator and their staff are an important part of the bridge that Grace builds between the senior living community and residents' families. Excellent communication is paramount and we've found that family members really appreciate being able to ask questions and get answers easily as they navigate between their family member and their new environment.
* Are you interested in learning more about us, and would like a tour to see everything that's on offer? Please click here to schedule a tour.
Reviews
I called my sister, and was greeted on the phone by a caring individual who seemed to really be happy that my sister was getting a phone call. That caring attitude means so much to loved ones like myself. I feel that she's in very good hands.
My sister is a resident there and has had very good care. They check in on her and are positive and helpful and communicate with me too. The facility is clean and the food is nourishing and very tasty for her. The staff is always willing to be of help and encourages her.
Grace is a wonderful place and the staff if fantastic! I would highly recommend checknig them out if you're looking for a safe and secure place for a family member.
Loved working here great staff!!! And managment.
Grace is a wonderful facility and we're extremely happy and comfortable. The staff is fantastic and they are caring and respond quickly to every need. We couldn't me more happy with the life at Grace.
Submit a Review
GRACE ASSISTED LIVING – TWIN FALLS
1803 Parkview Dr.
Twin Falls, ID 83301
Phone:
Assisted & Independent: 208.736.0808
Memory Care: 208.370.7300