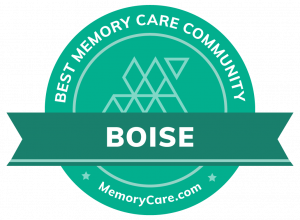 Welcome to gracious living! Grace Memory Care Boise's (located in Boise but on the border of beautiful Eagle and Garden CIty) newest memory care facility. We would like to invite you to come experience our relaxed, warm lifestyle by stopping in for a chef-prepared lunch.
Grace Memory Care is conveniently located off State Street in the Boise Eagle and Garden City area. The beautiful décor welcomes you to concierge-style living with the options of making new friendships and engaging in group activities.
Stop in for a guided tour and take us up on that lunch offer; Friday's clam chowder has a great reputation!
Memory Care Floor Plans
Grace Memory Care Boise
It's a new day in caring for those with dementia and Grace Assist Plus™ Memory Care residences in Meridian, Boise on State Street, Caldwell, Twin Falls and Chubbuck/Pocatello have been a-buzz about the emphasis on care.
Our dedicated Memory Care is safe and secure but it's also bright, active, and busy – offering a welcoming, open floor plan with inviting common areas and large windows.
The sofa, recliners, and even the dining room chairs are made of the softest materials and the deepest plushy foam. There is an emphasis on comfort that is rarely seen these days, even in the finest hotels. But the decor is only the outside veneer; the real emphasis is on care. Linda Hines, the owner and heart of Grace Assist Plus™ explains, "It is the most elderly who need and deserve the highest level of care, the softest comforts, and the greatest love and attention." Linda Hines emphasizes, "These are the people that need pampering the most—so let's pamper them!"
When roles begin to reverse, Grace Assisted Living will assist you through the tough decisions and provide peace of mind for every transition. At Grace Memory Care in Boise (on the border of Eagle and Garden City), one notices an altogether slower pace from Assisted Living. Specialized levels of care are offered to accommodate individuals with dementia who need a more supportive lifestyle. Assist Plus is a memory care important, personalized care plan designed for each person to maximize their capabilities and help your loved one maintain their sense of dignity. Family and friends are always a welcome and valuable part of our Assist Plus process.
Care plans in our dedicated Memory Care wings and buildings are adjusted to meet the  and changing health need of each resident so that any resident can remain at Grace for life. Our nursing staff and caregivers are highly trained to treat the mind, body, and spirit. We never underestimate the healing power of a hug, a gentle touch, or kind words.
Besides the leisurely pace for our memory care and dementia residents, another emphasis that is highly prized is a reliable routine that divides the day according to their energy level. An energetic game of Bingo is a favorite after a hearty breakfast. And later, a lively band practice and patriotic "sing-spiration," or a game of bowling led by the activity director, are  a few of the activities that fill a day. Activities like these and others boost the residents' alertness and sense of balance, as well as tone the muscles, and promote a feeling of optimism and well-being.
Great patience and time are taken to make each memory care resident feel comfortable participating in activities and games that are challenging, entertaining and therapeutic. Activities are specifically planned to provide a supported environment where every person is given the opportunity to contribute and live their best life.
Teamwork is essential in memory care and the administrator and their staff are an important part of the bridge that Grace builds between the senior living community and residents' families.  Family members appreciate being able to ask questions and get answers as they navigate between their family member and their new environment.
You might also appreciate that Grace is an Idaho company, based in Idaho, and managed by people who live in Idaho. We know our residents love their families and their families love them, so we make every effort to bring that family feeling to everything we do.
Linda Hines, Owner/Registered Nurse, established her first senior living community in 1990. "Over a period of 30 years I've opened 20 senior care communities. Serving the elderly population has been my life's passion and a rewarding career path.  At Grace, we strive to provide excellent retirement living and care."
Colter Kamo, Owner/CFO, has been with Grace Assisted Living since 2004.  "It is exciting to observe the changes to senior care since the early 2000's. Our company prides itself on adapting to change and being a flagship for senior care in Idaho."
Cody Bennett, Regional Administrator/CEO, has been with Grace Assisted Living since 2011. "Working in Assisted Living and Memory Care has been one of the most rewarding experiences of my life. The landscape of the industry is rapidly changing and evolving. We, at Grace, are working extremely hard to lead the way in Idaho for top quality senior care."
"We are in our residential communities daily, so we are on a first name basis with our residents.  We personally know each location's  administration and their staff members, our caregivers, and all the other Grace team members at our communities. We make ourselves easily accessible, so anyone, families especially, can call or talk to us whenever they want.  We are proud of what we've built right here in Idaho for Idaho families."  Linda Hines
Reviews
My wife resides in Grace Memory Care. The staff their are wonderful people. I live at Grace as well, in Independent Living, and am able to see my wife every day. She is very well taken care of and treated with upmost kindness and respect by the staff.
My parents moved to Grace about 5 years ago. My father resides in Independent Living and my mother resides in Memory Care. All of the staff has been great and the entire facility is beautiful. I am relieved knowing my parents are well taken care of by a staff that is kind, professional and truly care about my parents. The staff at Memory Care is like family and I know they work very hard to make sure my mom is happy and comfortable. They are truly a blessing.
My mother has been at Grace Memory Care for almost 2 years. This has been a difficult time for everyone involved. The Management has been great about letting us know if any changes for our visitations and tried to find ways that we could stay in touch with our mother. The nurses and aides are always ready to help and are loving and cheerful with her. Thank you so much for taking such good care of the most precious person in our lives.
Grace has been caring for my mother for over a year now. The staff at the facility has been wonderful with helping us through this major change. The personnel there is caring, kind & knowledgeable. I have relied on the staff's expertise in coping with the changes that are ongoing with Mom's issues. I am SO thankful for the staff at the facility.
Submit a Review